Birmingham gallery suspected thief arrested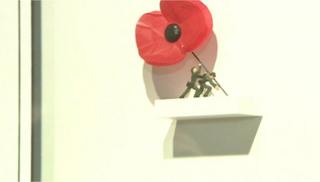 A man has been arrested on suspicion of trying to steal art from a Birmingham gallery.
CCTV showed a man attempt to put the limited edition sculpture in his jacket before leaving the shop, Castle Fine Art Gallery, with it under his arm.
A 41-year-old was arrested at his home in Small Heath on suspicion of theft.
The sculpture, which has now been sold, was created by Nic Joly to commemorate World War One. Proceeds from sales are going to the Royal British Legion.