City of Birmingham Symphony Orchestra HQ reopens after £1.8m revamp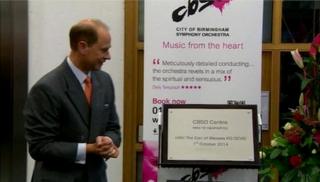 The City of Birmingham Symphony Orchestra's (CBSO) headquarters have reopened after a £1.8m revamp.
Since work began in June, the CBSO Centre has had new seating, lighting, acoustics and performance facilities.
The orchestra's patron, the Earl of Wessex, unveiled the changes.
As well as the main orchestra, the centre in Berkley Street is home to the youth orchestra, the Birmingham Contemporary Music Group and the Ex Cathedra choir.
The project was funded by Arts Council England, the Wolfson Foundation and other contributors.
Chief executive Stephen Maddock said wear and tear and advances in technology since the centre was opened in 1998 had made the revamp necessary.
"The centre was a conversion of a factory 16 years ago and a lot of things have moved on in that time," he said.
"It was a mix of what you always have to do and what we wanted to do."
He said the move to more energy-efficient lighting would save the orchestra "several thousand" pounds a year, while a new digital screen would allow people in reception to see what was happening in the rehearsal hall.
"That crisp screen would have been impossible for us to do 16 years ago," he said.