Peaky Blinders Brummie Harry Kirton praises help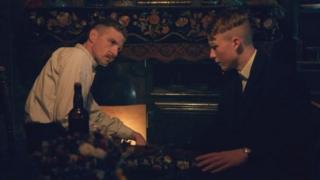 A Birmingham boy who landed a part in BBC drama Peaky Blinders, after thousands were auditioned, has praised his fellow actors for their help.
Harry Kirton, 16, of Northfield, was chosen after producers appealed to local people to attend auditions on 11 January for the drama.
He had only acted in one school Shakespeare performance before getting the part of Finn Shelby.
Harry said the drama's star, Cillian Murphy, is a "really nice man".
'Bit weird'
Murphy again plays Peaky Blinders leader Thomas Shelby in the second series currently being shown on BBC Two on Thursdays.
The drama, set in 1920s, takes its name from a real-life gang in Birmingham who had razor blades hidden in the peaks of their flat caps.
Harry said: "He (Murphy) was really good to work with... nice to talk to.
"I was scared to say what I thought because he's such a well-known actor.
"(But) if I was unsure how to approach a scene, he said 'just relax'.
"Everyone helped me. Joe Cole and Paul Anderson (screen brothers John and Arthur respectively) both helped me."
Harry did his GCSEs during the filming schedule between February and June.
He said: "I was doing science revision and then being a 1920s lad... Obviously when I had exam dates, I wasn't allowed to record."
After taking a GCSE in drama, he is doing an acting BTec at Birmingham Ormiston Academy, which specialises in performing arts.
He is also watching the second Peaky Blinders series for the first time like other viewers, having only seen the first episode at the premiere on Broad Street last month.
He said: "It's nice to see yourself. It's a bit weird.
"My friends are really proud of me being on TV and stuff. It's what we want to do.
"I get texts, 'you did really well' and 'I love you in the new series'."
Although he filmed at the Black Country Living Museum in Dudley, he mainly acted in Liverpool and Manchester, which housed indoor sets "in a massive warehouse".
The first series attracted audiences of about 2.4 million.
The programme makers have said the second series now extends to London, Derby and Doncaster, but is still a predominantly Birmingham story.