Yardleys School: Safety document delay brings fourth week of closures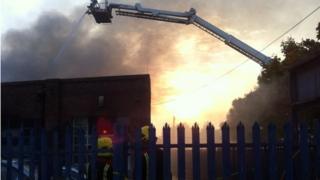 A school forced to close after an arson attack on a nearby warehouse, remains shut despite reassurances it would reopen on Monday.
Yardleys School, in Tyseley, was closed due to fears of asbestos contamination, after the fire on 29 September.
The school said it was still waiting for written confirmation from Birmingham City Council to say the site was "safe to use".
The council said it had already advised the school to reopen.
"Birmingham City Council and Yardleys Academy Trust continue to work together to reopen the school as soon as possible," a council spokesman said.
Noreen Siddique, who has two children at the school, said reopening should be a priority.
"I can't tell you how disruptive it is and it's affecting the children. My daughter is nine years old and she doesn't understand what's happening," she said.
The school has arranged for some lessons to be taught online and at other schools in the area, with pupils being taken there by coach.
A statement on the school website said documentation from the council to say the school was safe to use, was expected "shortly", after which the governors would take "professional advice" before reopening.
Kitchens at the school would need a "deep clean" as food would be out of date, the statement said.
Ms Siddique said the head teacher had "clearly tried her best" but felt Birmingham City Council was "taking its time".
Last week, the council said it was working to "provide the reassurance necessary" for the school to reopen on Monday.
"We must stress that the academy trust has been advised to reopen the school, and it has taken the decision not to do so, despite this advice," the council said in an earlier statement.