Birmingham car park hosting video art exhibition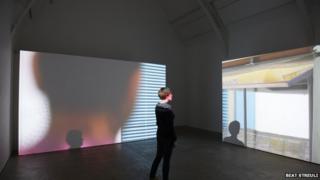 A Birmingham car park will host a video art show in an exhibition of work in unusual urban spaces.
The Gallan Car Park in Hurst Street will display images exploring everyday life, in the About Town exhibition.
Images at the free night screenings will include Broad Street's nightlife, a pedestrian thoroughfare and a music video shot in a car park stairwell.
Birmingham Hippodrome and the Ikon Gallery have worked on the exhibition, which runs from Thursday to Sunday.
The theatre will host a number of works - in its foyer areas, on staircases and landings - as part of the exhibition of video art.
Films shown at the Birmingham Back to Backs, National Trust properties which recapture 19th Century working class homes, will include Just Like That - based on comedian Tommy Cooper - by Dean Kelland.
The Route 2 Havana Car Park will showcase The Nightingale by Birmingham-born artist Grace Ndiritu, which explores racial stereotyping.
At the Gallan Car Park, Beat Streuli's New Street - photos capturing the summer atmosphere of Birmingham's streets - will appear on three large screens.
The site will also host Oliver Beer's film Pay and Display, which documents his collaboration with the city's Ex Cathedra choir to create the music video shot in a stairwell in the Pershore Street car park.
Work shown at Birmingham Hippodrome will include Adel Abdessemed's Happiness in Mitte, which depicts stray cats drinking from bowls of milk left by the artist outdoors in Berlin's Mitte district.
Artists from the UK and abroad have contributed to the exhibition.
The venues around Hurst Street will show the video art between 16:00 and 22:00 GMT.