'Safe havens' shops for Birmingham children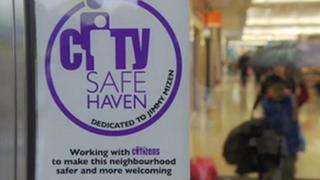 A scheme where shops and businesses become "havens" for young people who feel unsafe on the streets has been launched in Birmingham.
It has been set up by the charity Citizens UK, working with the police, local schools, businesses and community groups.
Sixteen shops and businesses will display a CitySafe Haven sign.
Organiser Saidul Haque Saeed said they would offer "a place of sanctuary" until the young people feel safe.
Trained members of staff would look after the young people and contact the police if necessary, he said.
'Hide in bushes'
The charity has already set up 600 safe havens in London.
The scheme began in Lewisham after 16-year-old Jimmy Mizen's murder in 2008.
West Midlands Police and Crime Commissioner David Jamieson said: "It is my hope that we will see more local businesses and institutions join this initiative so that young people will know there is always a safe place nearby they can turn to."
The scheme was launched after Citizens UK Birmingham ran a "listening campaign" last summer which identified street and bus safety as a top concern for young people.
Ten-year-old Perez, from a Birmingham primary school, said he sometimes had to hide from other boys when walking home through a park.
"I have my secret hiding places in the park so they can't catch me when I run away from them.
"If there was a safe haven nearby then I wouldn't have to hide in the bushes."
The first Birmingham safe havens have been opened in Newtown, Lozells, Handsworth Wood, Birchfield and Small Heath.