UKIP MEP brother in Russell Brand Question Time duel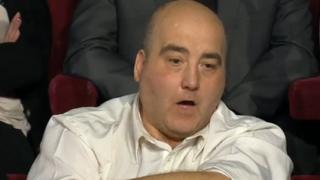 A Question Time audience member who had a fiery debate with comedian Russell Brand is the brother of a UKIP MEP.
West Midlands MEP James Carver told the BBC his brother Robert had accused the comedian of "preaching" on the programme, which included UKIP leader Nigel Farage on the panel.
Robert Carver has said he was at the broadcast "solely as a viewer" and his brother had been unaware of his plans.
The BBC said "anyone is welcome" to apply to be in the audience.
The MEP said the first he knew about it was when his brother called to ask if he had seen the show.
The Daily Mirror reported Robert Carver had identified himself in blog posts as the politician's brother.
'Political balance'
During Thursday's broadcast recorded in Canterbury, Robert Carver told the comedian, who has recently campaigned on a number of political issues, to "stand for parliament".
"If you're going to campaign, then stand," he said.
"You have the media profile. Do it."
Brand replied he would stand as an MP, were it not for the worry he "would become one of them".
Robert Carver told the BBC he was a member of UKIP but had never voted for the party and was astonished at the public reaction to his appearance on the programme.
"I wasn't there with anyone else's agenda," he said.
"I relished the opportunity to engage with Russell and I don't understand why a campaigner would not take the opportunity to stand for a place in the mother of all parliaments. I want him to put his money where his mouth is.
"It is about engaging with people. I want people to vote, I don't care what their politics are. I just want them to vote."
However, MEP James Carver said his brother "wasn't that political".
The BBC said the programme's audiences were selected "in accordance with the BBC's guidelines on fairness and impartiality".
It said the production company which makes the show was "extremely careful to select audiences which reflect a broad political balance".
Applicants must fill in a form about their political views, they said, and each is personally interviewed "to ensure they do hold those views and that they are willing to express them on air. "