West Midlands Police chief Lord Knights dies aged 94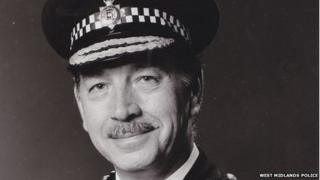 The man who helped lead the creation of the West Midlands Police force has died at the age of 94.
The force said Lord Philip Knights had helped them "act as one" when he became its second chief constable in 1975.
West Midlands Police formed in 1974 by amalgamating parts of six separate forces.
Current Chief Con Chris Sims said Lord Knights had been the force's "true architect".
'Humble and dedicated'
Lord Knights came from a policing family, and joined Lincolnshire Police as a cadet in 1938.
He became a constable in 1940 and chief superintendent in 1957.
In 1959 he moved to Birmingham City Police as an assistant chief constable.
In 1972, he became chief constable in Sheffield and Rotherham Constabulary, which became South Yorkshire Police by amalgamation in 1974.
In 1975, Lord Knights returned to West Midlands Police as chief constable, inheriting a group of officers who were used to working in six separate forces.
Ch Con Sims said: "He brought all of the separate areas together and got us working as one - even down to the very uniforms that we wore.
"He made us what we are today, in terms of a combined, coherent police force spanning the metropolitan areas of Birmingham, Coventry and the Black Country.
"He was a humble and dedicated police officer who never lost touch with the force he helped to create."