Wounded Ukraine soldier treated at UK hospital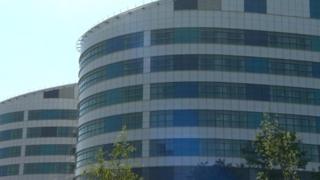 The first of five badly-wounded Ukrainian soldiers has arrived in Birmingham for UK-funded medical treatment, the Foreign Office said.
Staff at the Queen Elizabeth Hospital are performing reconstruction surgery for severe wounds sustained in the battle against pro-Russian rebels.
Another is due to be flown to the hospital next month.
A surgical team is due to go to Ukraine next month to assess up to three others who could benefit from British help.
The move is part of a wider initiative by Kiev's allies, with the as-yet unspecified cost being met by the Foreign Office, the Ministry of Defence and the Department for International Development.
'Battlefield injuries'
Foreign Secretary Philip Hammond said: "The UK stands squarely behind the Ukrainian people and government as they defend their nation's independence and work towards the political, economic and governance reforms that are vital to rebuilding the country.
"The surgical unit at Queen Elizabeth Hospital has extensive experience and skill in treating battlefield injuries."
A University Hospitals Birmingham NHS Foundation Trust spokeswoman said two of its surgeons went to Kiev in November "to assess, in conjunction with the Ukrainian Government, suitable patients to be treated in the UK".
On Friday Ukraine's president Petro Poroshenko hailed the first day since the conflict erupted when none of his country's soldiers were killed or wounded.
A ceasefire was agreed in September but has been widely breached and the death toll has since passed 4,300.
Almost one million people have been displaced in the eight-month conflict between Ukrainian forces and pro-Russian rebels.