Brierley Hill waste pile boss to have assets seized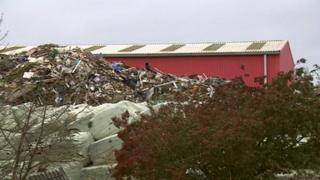 A waste firm boss who was jailed for failing to clear a 42ft-high pile of rubbish is to have his assets seized.
The Environment Agency has obtained a High Court writ against Robert McNaughton, the director of Brierley Hill-based Refuse Derived Fuel.
The writ of sequestration allows enforcement officers to seize his assets as well as the firm's.
McNaughton was jailed for six months last December for repeatedly failing to clear the site near Dudley.
At one point the pile reached a height of 42ft (13m) and residents said there were issues with rats.
In its defence, the company had said it could not afford to transfer the waste.
An Environment Agency statement said it was continuing to take legal action to get the remaining waste cleared.
"Enforcement officers have visited both Mr McNaughton and the company, and are currently investigating what assets can be seized," it said.
"It is possible that there will be further court hearings in the near future as a result of this."