Birmingham baby flat death: Jocelyn Bennett speaks of anger at twin deaths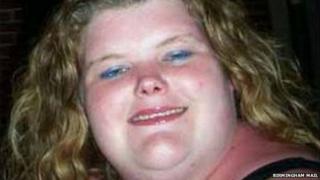 A woman who lost her twin babies and spent 19 days in a coma after paramedics struggled to access her flat has spoken of the tragedy.
Jocelyn Bennett was 32 weeks pregnant when she called an ambulance to her home in Pleck House, Druids Heath, because she was suffering severe pain.
Emergency crews were unable to access the council-run flats for half an hour.
Ms Bennett, 27, who collapsed shortly after calling the emergency services, said she was "angry and bitter".
The council said it was investigating the incident at the tower block.
Recalling what happened, Ms Bennett said: "I remember crawling to the front door but I couldn't stand up to answer the buzzer.
"I was found by the paramedics when they finally got in. I don't remember anything else."
Until that point, Ms Bennett said, the pregnancy had been "absolutely perfect".
Heart restarted
She said: "I could feel the kicks, the movement. [My bags for hospital] were ready, I was ready. Nothing should have gone wrong."
On being taken ill Ms Bennett was taken to Queen Elizabeth Hospital in Birmingham. Her heart had to be restarted three times and she was in a coma for 19 days.
Her twin daughters, Melody and Rose, suffered brain damage and died after seven days.
She said it was not clear whether the twins could have been saved if paramedics had been able to reach her sooner.
"I am angry and bitter, but if we can make people aware these blocks are not safe for families and the elderly and anyone that lives there, that's what we'll do."
Ms Bennett's father, Joe, said: "If there was something in place to help them gain access to these tower blocks, it might have been a different story.
"If it wasn't for the paramedics and the police getting through the door - if they'd just given up - we would have lost the three of them. I can't thank them enough."
Mr Bennett added: "There used to be concierges, but now there is only one way through these doors and that's with a fireman's key.
"Why don't we have keys for the police and the paramedics? The last thing we want is for this to happen to somebody else."
Birmingham City Council said an investigation was ongoing, so it was "inappropriate" to comment.
"However, we have been in constant dialogue with the family," said a representative.