Walsall Manor Hospital scales back major incident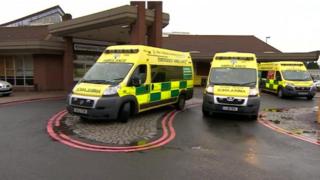 A major incident has been scaled back at Walsall Manor Hospital as pressure eases on its emergency unit.
It had raised its incident status to the highest level on Monday, due to "unprecedented" demand on the department.
It was one of several A&E units in England to declare a major incident.
Chief executive Richard Kirby said the hospital and health services in the area continued to be "very busy", but normal working had resumed.
He thanked staff for their "amazing commitment to patient care and tremendous hard work in challenging circumstances".
Mr Kirby also thanked patients and their families.
The hospital opened up a 40-bed day unit to A&E patients on Wednesday in a bid to lift pressure on the emergency unit.
A new 30-bed ward, funded partly by the Department of Health, is also due to open on Monday.
Despite "de-escalating" its major incident status, Walsall Healthcare NHS Trust urged patients to avoid using A&E unless it was a "genuine emergency".