Shelved Wolverhampton Tesco store options considered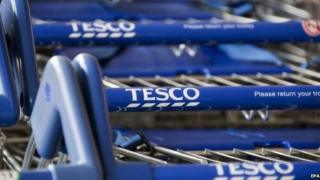 Land earmarked for a Tesco store that will not now be built could be used for shops, housing or an educational development, according to a council.
Tesco announced on Thursday it had shelved its plans to build dozens of stores, including a £65m supermarket on the former Royal Hospital site in All Saints, Wolverhampton.
Talks are due to take place between the firm and the city council next week.
Council leader Roger Lawrence said: "It's back to the drawing board."
'No consolation'
The supermarket giant has owned the site for more than a decade, but told the authority its store would not be going ahead as part of measures to revive the company's fortunes.
Mr Lawrence said the firm's financial issues "are no consolation to people in the area who've made sacrifices over the years".
He said there were constraints on the land's future use because the former hospital site was a listed building.
"There are a few ideas for alternative uses, to include alternative retail plans, to include more residential, and to include local or educational-type uses."
The council said it received assurances as recently as last summer that the planned supermarket would still be going ahead.
Tesco announced on Thursday it was closing more than 40 shops, and shelving plans to open new stores, after reporting a fall in sales.
However, another planned store in Stirchley, Birmingham, will be going ahead, although no opening date has been given.
Tesco said on Thursday it had not got a full list of the store locations affected by its announcement.