Wolverhampton council benefits assessor fraudulently claimed benefits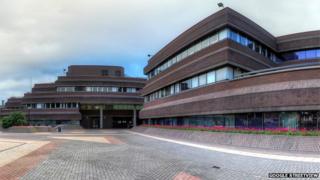 A council benefits assessor who fraudulently claimed more than £32,000 in benefits has been given a suspended prison sentence.
Anthony McHale, 56, was responsible for processing and managing housing benefit claims for Wolverhampton City Council.
He created six aliases, approved their benefit "applications" and diverted the money into his own bank account, the Crown Prosecution Service (CPS) said.
He was sentenced to 20 months in jail, suspended for two years.
McHale, from Brad Lane North in Willenhall, must also pay back the money and do 300 hours of unpaid work.
'Abused trust'
His fraudulent activity carried on for two years between August 2012 and September 2014, amassing a total of £32,326.20.
The CPS said an investigation began when a member of the public contacted the council after receiving a letter addressed to one of McHale's fictitious claimants.
McHale pleaded guilty at Wolverhampton Magistrates' Court in November to six counts of fraud.
David Elliott from the CPS said McHale was employed "in a position of trust which involved him dealing with and ensuring the correct benefits were paid to those who were entitled".
Mr Elliott added: "However, he abused this trust and through his knowledge of the system, he began to defraud the council by creating fictitious claims and paying housing benefit to himself."
McHale is due back at Birmingham Crown Court on 29 May for a proceeds of crime hearing, when a victim surcharge will also be determined.