Jeff Astle charity due to launch, family confirms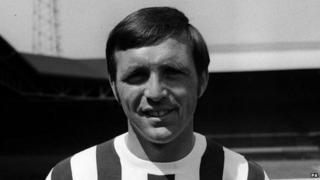 The family of West Bromwich Albion legend Jeff Astle is to set up a charitable foundation in his name.
The striker, who won five England caps, died in 2002, aged 59, of a brain condition normally linked to boxing.
Daughter Dawn said the Jeff Astle Foundation would help sportspeople and their families affected by similar conditions.
It is due to be launched in April, pending approval from the Charity Commission.
A coroner ruled Astle's brain had been damaged as a result of heading heavy leather footballs throughout his career.
He was originally diagnosed with early-onset Alzheimer's disease, but a re-examination of his brain found he had died from chronic traumatic encephalopathy (CTE) - a progressive degeneration caused by repeated head trauma.
Ms Astle said the foundation's ultimate goal was to open a convalescent home for ex-players suffering from conditions such as dementia.
"I've spoken to people who are being charged £1,200 per month to put their dads into a home," she said.
"They're frightened about how they're going to pay for it.
"People shouldn't have to sell their homes, medals and shirts to get proper care."
The charity also aims to raise awareness of CTE, Ms Astle said.
It also hopes to provide financial assistance, where possible, to those affected, she added, as well as funding further research into head injuries.
The Astle family has long campaigned for more work to be done to understand the risks of heading footballs.
In August, the Football Association agreed to carry out research into head injuries in the sport as a result.