Birmingham child sexual exploitation case hotel can be named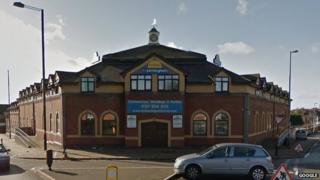 A hotel linked to a sexual exploitation case - which saw 10 men banned from contacting a 17-year-old girl - can be named, a judge has ruled.
The Birmingham Hotel, in Small Heath, was identified in court proceedings against the men as a venue where the victim may have been exploited.
An identity ban order was lifted by Mr Justice Keehan at the High Court.
The hotel backed the ban having said there was no evidence it had allowed abuse to take place.
'Abuse venue removed'
However, Mr Justice Keehan agreed to lift the restrictions, whilst praising hotel staff for their conduct.
He said the girl was initially barred from entering the premises on a day last August, when she was recognised by a member of staff.
A short time later on the same day, the judge said, they contacted police when they saw the teenager leaving with three men, having realised she had managed to get in.
"I make it entirely clear that the [hotel] at all relevant times acted entirely appropriately and co-operated with the authorities," he said.
However, the judge said it was "perfectly proper" to conclude the girl was at the hotel "with these three Asian gentlemen for the purposes of child sexual exploitation".
The hotel had been threatened with an injunction as part of Birmingham City Council's bid to tackle abuse.
CCTV cameras installed
But the authority dropped its application - which would have forced staff to raise the alarm if the girl was spotted - after the venue agreed to implement staff training and other anti-abuse measures.
As part of the agreement between the two parties, the hotel agreed to install CCTV in its reception, check the ID of young guests and their relationship to accompanying adults, the council said.
Its owners however, said cameras were installed before proceedings were launched, and the new protocol was based on "existing procedures".
The council said "it was not necessary to pursue the applications for injunctions" in light of the arrangement and so proceedings were withdrawn.
Peter Hay, the council's strategic director for people, said the Birmingham Hotel had co-operated with officials throughout.
"We are pleased this has been removed as the sort of location people can use as a venue for the sexual exploitation of children," he said.
Previously, the authority published a report which said it hoped to toughen up licensing procedures around hotels as part of wider efforts to stop child sexual exploitation.