Harborne road closed after debris blown from Huntsman pub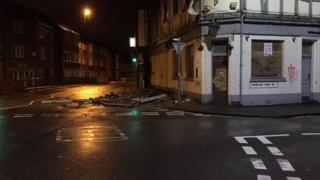 A road in a Birmingham has been closed after debris was blown from a derelict pub by high winds overnight.
Harborne High Street was closed at 21:00 GMT between Lordswood Road and Station Road because of debris from the Huntsman pub, the fire service said.
The pub was badly damaged in a fire in July 2013.
West Midlands Fire Service said a structural engineer will assess the safety of the building before the road can be re-opened.
The Met Office said there were "gale force" gusts of wind in the area overnight, reaching speeds of 48mph (77km/h).
A spokesman said it is expected to be less windy during the day, though there may be stronger gusts again in the evening.