Alum Rock and Small Heath shop window attacks 'linked'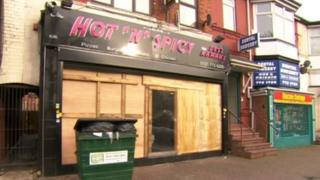 A series of attacks involving a suspected pellet gun on businesses in Birmingham are being linked by police.
Seven shops and restaurants in Alum Rock and Small Heath had their windows damaged on Saturday night. Another shop was targeted on Monday.
West Midlands Police said the attacks were "not random" and not connected to ethnicity or religion.
It said initial inquires had shown a silver Ford Mondeo may have been involved. Patrols have been increased.