Broken leg care home death 'gross negligence by nurse'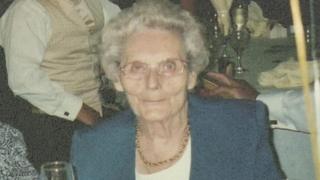 A 91-year-old woman died after suffering a broken leg due to the "gross negligence" of a care home nurse, a court has heard.
Iris Teale died in hospital 16 days after suffering the injury at Aston Court Nursing Home in Little Aston, near Sutton Coldfield, in October 2011.
The prosecution at Birmingham Crown Court described her as fragile, slight and poorly.
Santhosh Rajan, 39, of Bentley Lane, Walsall, denies manslaughter.
Prosecutor Robert Price alleged that Mr Rajan, a staff nurse, knew Mrs Teale should only have been moved using a hoist but had nevertheless "mishandled" the pensioner, causing her injuries.
The jury heard Mrs Teale sustained her leg fracture after the limb was subjected to a twisting motion on 8 October 2011, which "contributed to the death in a significant way".
'Serious and obvious' risk
The fracture must have been caused by the use of force greater than that required in normal, careful and gentle handling, Mr Price told the court.
"We say that that mishandling amounted to, at the very least, gross negligence," he told the jury.
The court heard Mrs Teale's care plan meant she should have only been moved by two people using a hoist.
The prosecution alleges Mr Rajan moved Mrs Teale when he was caring for her alone, despite a "very serious and obvious" risk of injury.
During a night shift he moved the pensioner "contrary to all good practice" to apply cream to her back, the jury heard.
Mr Price told the court: "That contact would have necessitated turning and movement which ought to have been carried out by two carers.
"No one saw him do it but we submit that you can be sure it was him, and sure that he is responsible."
At the start of the trial jurors were told the staff nurse claimed Mrs Teale was already injured when he entered her room at about 22:10 GMT, and he did not know how she had sustained her fracture.
She died in hospital on 24 October.
The trial continues.