Firm gets more time to work on Dudley Hippodrome plan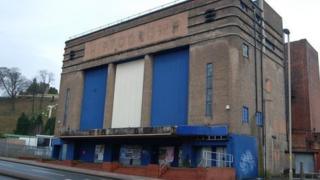 An entertainment company has been given two more months to work on its business plan for a 1930s theatre site.
A 35,000-strong petition was gathered against Dudley council's proposal to demolish Dudley Hippodrome, as part of a £10m revamp of the area.
The authority said talks with ROK Group, which wants to run the venue, were continuing but said "commercial factors would have to stack up".
The BBC has asked the entertainment firm for a response.
'Embed elements'
Built in 1938, the site was a theatre until 1964 when it became a bingo hall. But it has stood empty since that closed in 2009.
The council said discussions with ROK Group "demonstrate the authority's commitment to the best outcome for the site".
The long-term viability of a scheme would not create a financial risk to council tax payers, the authority said.
In comments released by the council, Friends of the Hippodrome spokesperson, Gordon Downing, said the group was "disappointed" its own proposal to takeover and run the theatre was not being pursued.
But he also said: "We are now looking to work with ROK and the council, to try to embed elements of our scheme in a project to secure the future of the building."
The council said it was in "ongoing and positive dialogue with key members of the group" about how they could work with the authority and ROK.