Walsall Council abandons plan for green waste charge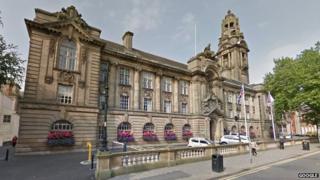 Plans to charge for garden waste collections in Walsall have been abandoned.
Over 70% of respondents to a council budget consultation said they wouldn't pay for the service if a fee was introduced.
However, plans to close five libraries across the borough are set to go ahead following the survey.
The council, which faces £86m in cuts over the next four years, is set to approve the amendments next month.
In total, the authority scaled back 11 cost-cutting proposals based on public feedback, including an end to street cleaning services and maintaining grass sports facilities.
'Unpalatable decisions'
It had already abandoned proposals to charge for parking in the borough's district centres after business owners expressed concerns it would harm trade.
However, libraries in Streetly, Pheasey, Beechdale, Walsall Wood and Walsall South are set to close, although the initial closure date has been deferred.
The council said it had pushed the proposed closure back by three months, to 1 July, to give community groups more time to discuss running book swap services.
Analysis, by Susana Mendonça, Political Reporter, BBC West Midlands
"Tough choices" - it's a phrase local councils use daily. In Walsall, the choice this time was between keeping streets clean or keeping libraries open. The streets won this battle, so residents will continue to get free garden waste collection, but five libraries will close.
Locals will get the chance to set up their own book swap, though - the "do-it-yourself" approach to council services.
It reminds the Conservatives' "Big Society" slogan used before the last general election. Now though, Labour-run councils like Walsall use the same principle as an example of what they describe as the "real impact" of government cuts.
The impending local elections might have something to do with that take on their "tough choices".
They were among eight libraries slated for closure over the next two years.
Council Leader Sean Coughlan said the council recognised some of its decisions would be "unpalatable".
Neighbouring Birmingham City Council was hit with complaints when it introduced a green waste charge last year.
Residents complained of an increase in fly-tipping and of lengthy queues at local tips.