Hester Mottershead inquest: 'Stress contributed to death'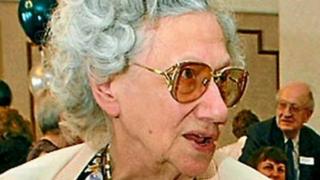 Stress after a burglary probably contributed to the death of a former headmistress, a coroner has recorded.
Hester Mottershead collapsed after men posing as water board officials searched her home in August 2012.
The 90-year-old from Tettenhall, who worked at Bilston Girls High and Wolverhampton Girls High schools, suffered a stroke and died in hospital.
Coroner Zafar Siddique said the burglars' actions contributed to her death "on the balance of probability".
He recorded a narrative verdict.
James Connors, of Deptford Crescent in Nottingham; William Connors, of Siskin Drive in Coventry; Michael Cash and Gerry Connors, both of no fixed abode, all admitted conspiracy to commit burglary.
They were jailed for four years and three months, four years and five months, five years and six months and five years respectively at Wolverhampton Crown Court on 16 December 2013.
Manslaughter charges brought against the men were dropped in October 2013.