Wolverhampton tram line work over old mine resumes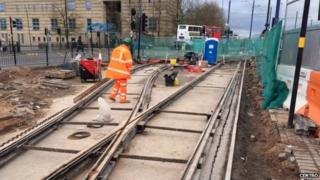 Work laying new tram tracks over "unstable and potentially dangerous" former mine workings in Wolverhampton have resumed.
Engineers have reinforced ground over the 18th Century mine workings, between Steelhouse Lane and Hospital Street, transport authority Centro said.
Worked on the £4.5m track improvement scheme stopped in November.
Trams are scheduled to resume running into St George's terminus in March, Centro said.
Councillor Roger Horton acknowledged the delays had been "incredibly frustrating" for commuters.
The old workings are 12m (40ft) deep, 55m (180ft) long and 20m (65ft) wide.
They are thought to date as far back as the Industrial Revolution, when coal and iron ore was mined extensively across the Black Country, Centro said.
The transport authority said it consulted with specialist engineering consultants and other light rail systems in the UK and around the world to see whether similar problems had been encountered elsewhere.
Engineers have used a special membrane and grid to stabilise the ground, in between layers of compacted hardcore capped with a reinforced 5m (16ft) wide concrete slab running through the length of the workings.
Midland Metro programme director Paul Griffiths said: "The design of the solution has been complicated by the location between the two carriageways of Bilston Road.
"This has prevented the material from simply being dug out as it could have damaged the integrity of the road."