Riot policing would 'hit West Midlands Police duties'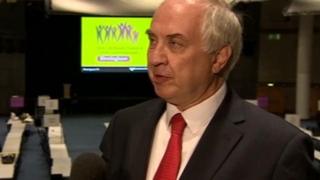 West Midlands Police no longer has enough officers to cope with non-emergency duties in the event of major riots, the crime commissioner has said.
David Jamieson claimed "unfair" government cuts were "reducing the resilience of policing in our area".
His warning followed a report by Chief Constable Chris Sims.
The Home Office said forces across the country were "successfully balancing their books while protecting the frontline".
A government spokesman said crime had fallen 17% across the West Midlands since June 2010, despite making savings.
"What matters is how officers are deployed, not how many of them there are," he said.
'Increasingly challenging'
Mr Sims told the West Midlands Strategic Police and Crime Board staff reductions had made it "increasingly challenging" to maintain non-emergency policing when officers were deployed at major events across the country - such as riots.
However, he said the force's emergency response "remained resilient".
Last year's commitments including sending officers to Wales for the Nato Summit and policing the Conservative conference in Birmingham.
West Midlands Police itself benefited from other forces' support during the 2011 riots.
'Fair share'
In 2012, the force announced more than 2,700 job cuts, in a bid to save £126m over four years.
Mr Jamieson said the force had lost 300 officers in the last year alone and faced savings of £23m in its 2015-16 budget.
He has already proposed increasing the force's share of council tax by almost 2% - the equivalent of 4p a week for an average Band D property.
"I cannot ignore the fact that West Midlands Police faces the most challenging financial circumstances of any force in the country. We don't get out fair share of police funding, which has cost us £367m in the last eight years," Mr Jamieson said.
The Home Office said Her Majesty's Inspectorate of Constabulary recently found the force had "made excellent progress during challenging financial circumstances and has innovative plans to manage further austerity in the future".
"The Strategic Policing Requirement does not mandate how forces deploy officers, but we continue to work with police and partners to ensure an effective, timely and collaborative response to national threats," the spokesman said.