Dozens protest over Birmingham City Library cuts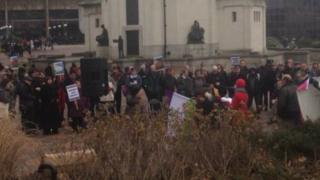 Up to 150 people gathered outside the Library of Birmingham in protest at proposed cuts to hours and staffing.
Friends of Birmingham Library organised the protest, which was also attended by members of the National Union of Teachers.
The group held speeches before holding hands around the building and handing in a petition at the council house.
The £189m building opened to huge fanfare in September 2013 with Malala Yousafzai at the ceremony.
Malala was shot in the head in Pakistan by the Taliban for championing education for girls. She was recently awarded the Nobel Peace Prize.
The library now faces losing half of its workforce if Birmingham City Council's proposals to cut its annual budget go through, meaning that opening hours would be reduced from 73 to 40 per week.
The Labour-led authority said it needed to cut £117m from its budget next year.
The council has said it is "sad and distressing" that the library hours and staffing will be cut, but it says there is no service which will remain untouched given the scale of government cuts it is facing.