Plans to demolish Aston's Grade II listed fire station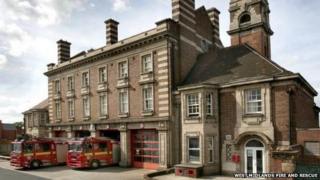 Plans to demolish and replace two West Midlands fire stations - one of which is Grade II listed - are being considered by the authority.
The futures of Aston and Coventry stations will be discussed by West Midlands Fire and Rescue Authority (WMFRA) on Monday.
The service said it needed buildings that suited a "modern-day" fire service.
English Heritage said the Aston station was "carefully-designed".
'Expensive to run'
Aston's Ettington Road fire station was built in 1923 and the service said it recognised there may be "some sentiment" attached to it.
The authority said it was also suggesting a "back-up" option in case its recommendation to demolish the station did not get permission from planners.
It is also suggesting, subject to approval by members, that Coventry's Radford Road station, built in 1976, be demolished and rebuilt.
It said the existing building was expensive to run and maintain.
John Edwards, Chair of WMFRA, said: "Modern-day firefighters need modern-day facilities."
'Powerful symbol'
Phil Hales, deputy chief fire officer, said: "We recognise that there will be some sentiment attached to Aston's fire station building. However, we also have to consider the best ways of providing a modern fire and rescue service.
"These two stations are no longer fit for a 21st Century fire service."
A new station at Aston could cost around £7.5m, while the Coventry scheme could cost an estimated £6.7m.
English Heritage said it had not yet been consulted on the plans but added: "We... will expect to be if a proposal to demolish the Grade II-listed Aston fire station is put forward.
"Aston fire station was listed at Grade II in 2010 and recognised as a carefully-designed building which works well with its surroundings and is a powerful symbol of civic pride."