Wolverhampton creates 735 extra primary school places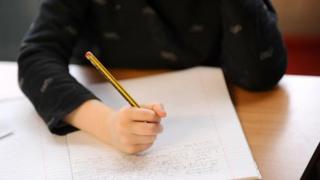 Nearly £10m has been allocated to help create hundreds of primary school places in Wolverhampton to meet a "rising demand".
The city council predicts a "spike" which will see about 300 extra pupils this September and 200 in 2016.
It was given £9.7m from the government to create 465 permanent places and 270 temporary ones at nine schools.
A spokesman for the Labour-run council said a rising birth rate and influx of people to the city created the demand.
The Department for Education has allocated £1.6bn across England over three years to increase school places.
'More certainty'
The city council said the number of pupils starting primary education in Wolverhampton in 2017 was expected to return to the average of about 3,300, which was why some new places were temporary.
Phil Page, cabinet member for schools, skills and learning, said: "The council has a statutory responsibility to ensure there are sufficient school places for our young people and this funding is welcomed.
"Levels of demand for primary school places have increased significantly over the last few years, and it is clear that extra places are required this year and next, so we are introducing hundreds of additional places some on a temporary and some on a permanent basis."
The council said it would draw up plans to ensure the city's secondary schools could accommodate the current spike in pupil numbers.
Last summer, the Local Government Association (LGA) warned a rising primary school population in the country was putting pressure on budgets and raising fears of "supersize" schools. Figures from 2014 showed there were 77 primary schools with more than 800 pupils.
The LGA said the latest funding would "provide more certainty" to councils as they planned to create school places. However, a spokesman added the funding "came late" and councils should be handed powers to open new schools.
"We need a single local capital pot to enable councils to provide new places, repair and rebuild schools in line with local needs and priorities," he said.