Dudley's medieval 'hidden town layout' uncovered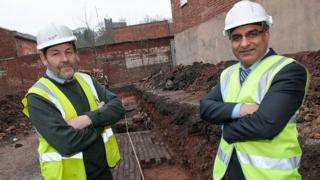 An archaeological dig in the West Midlands has uncovered more about "one of the best" layouts of a medieval town in the country, experts have said.
The dig, at Tower Street, Dudley, is taking place ahead of the building of a £2.5m car park on the site.
Dr George Nash, who is leading the dig, said the team had uncovered a period of history spanning 800 years.
He said it had highlighted Dudley's "wonderful hidden town layout", which was "one of the best in the country".
'Fascinating'
Work on the site began on 9 February.
It has been earmarked for a 225-space car park but because it has been occupied for hundreds of years, the council said the dig had to take place ahead of any proposed building work.
"We have dug down about 2.5m (8ft)," said Dr Nash.
"The dig has uncovered some pieces of 12th Century pottery."
The team has also found evidence of medieval buildings and street layouts.
The archaeological work has seen two trenches already dug with a further three planned.
Councillor Khurshid Ahmed said the work was "fascinating" but he hoped the discoveries would not "adversely affect our time-line for getting the work started on this much-needed car park".