Drained Birmingham canal: Businesses 'still open'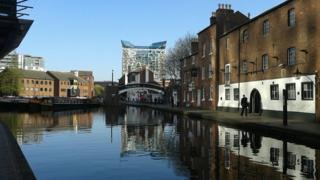 Businesses along a city centre canal in Birmingham that is being drained will remain open despite the work.
A section of the Worcester and Birmingham Canal, at Gas Street Basin, is being drained because water is leaking close to a railway line.
The route has been closed to boats while the work takes place.
The area is a key site for tourism in the city and businesses have said they are still open, although some services have been reduced.
'Cherished landmark'
Birmingham's canals attract about 11 million tourists a year, according to Visit Birmingham, who said the routes were "one the city's most prized visitor attractions".
"It is essential that appropriate measures are taken to preserve and safeguard one of the city's most cherished landmarks and its surrounding areas," said Emma Gray, director of marketing services.
"We hope for speedy progress as repairs to the canal leak are undertaken."
Gill Smith, the director of Away2Dine, which operates six tourism boats in the area said she had had phone calls from people to check whether the services were still running.
"The routes have been curtailed but we still have trips going out towards Wolverhampton," she said.
The Canal and River Trust said it had made "every effort" to contact people trying to use the route during half-term.
Gary Ramsell, an engineer for the trust, said: "A lot of boaters do have to take diversions unfortunately.
"But if we don't repair the canal we run the risk of something worse happening in the future.
"We work with the businesses in the local area to have agreement. We are hoping the work will be around a month but until we get in there and have a look, it will be difficult to say."