Gas Street Basin fish rescue delayed by leaking canal dams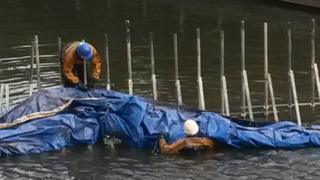 A fish rescue operation at a section of leaking canal in Birmingham has been delayed because water levels have not dropped sufficiently.
Engineers are attempting to investigate water seeping from an aqueduct into a disused railway tunnel.
But the seals on two dams are not tight enough to keep water out of the section due to be drained.
Experts planned to start removing fish from a 200m (650ft) stretch around the Gas Street Basin on Saturday.
The Canal and River Trust said the rescue operation is now due to be carried out on Sunday.
The fish will be stunned with electricity, before being scooped out of the water and transferred to another part of the canal.