East Birmingham regeneration 'may create 9,000 jobs'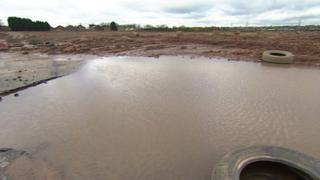 Up to 9,000 jobs could be created under plans for the regeneration of land in east Birmingham.
The council aims to revamp 120 hectares between the city centre and the airport ahead of the planned HS2 rail link.
Some land set aside for an HS2 maintenance depot, at a former Washwood Heath factory, will be released to create 2,300 jobs, it said.
Liam Byrne, MP for Birmingham Hodge Hill, said the possible jobs are a "big deal for east Birmingham".
But the council's leader admitted the plans "would take time" to happen.
Sir Albert Bore told BBC News: "It takes months, if not years, to bring in these changes, therefore we're planning for the short-term as well as the medium and the long-term."
East Birmingham Growth Prospectus
Areas for development cover nearly 120 hectares and include "significant sites and smaller opportunities"
They have the potential to create 330,500 sq m (0.3305 sq km) of new employment floor space and create 8,600 jobs
Plans include 3,000 jobs at a "major new employment site" in Bordesley Park as well as new homes and community facilities
1,000 new homes in Shard End
Improved cycle routes and road layouts
Source: Birmingham City Council
The council's East Birmingham Growth Prospectus, launched earlier, covers Erdington, Stockland Green, Nechells, Saltley, Washwood Heath, Hodge Hill and Shard End, where more than 280,000 people live.
The train maintenance depot will still be built on the former LDV and Alstom sites there, but some of the land will be released by HS2 Ltd, the council said.
Last July, HS2 Ltd said the headquarters for construction of the high-speed rail line was to be based in Birmingham with its new premises housing up to 1,500 staff.
Curzon Street will also become the Birmingham hub for the first phase of the line.