Ex-Selly Oak Hospital site homes-plan contracts exchanged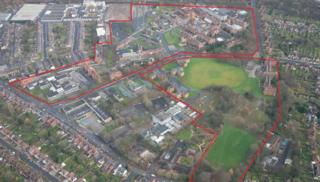 Hundreds of homes will be built on a former Birmingham hospital site after contracts were exchanged to seal a multi-million pound land deal.
The University Hospitals Birmingham NHS Foundation Trust (UHB) had been in talks with Persimmon Homes over the Selly Oak Hospital site.
The developer purchased the land with outline planning permission already in place for 650 new homes.
It has sent the council a reserved matters application for the first 98.
'Retain historic buildings'
The UHB moved into the Queen Elizabeth Hospital in 2010 and the Selly Oak site closed to patients in 2011.
Andy Peters, Persimmon Homes South Midlands' managing director, said: "We are investing £100 million in this iconic site and look forward to beginning work on what will be a six to seven-year long project that will breathe new life into Selly Oak and create up to 1,560 jobs.
"It is an exciting opportunity for us as developers to build homes which meet local needs and reflect the history and unique situation of the site, integrating into Bournville and the surrounding areas."
Work on site is expected to start in April. It has not been confirmed if shops, restaurants and other community facilities will be included in the scheme.
Councillor Tahir Ali, Birmingham City Council's cabinet member for development, transport and the economy, welcomed the deal.
"I am pleased that this key site in Selly Oak is to be given a new lease of life through this development, which will help close the housing gap in Birmingham, while retaining significant historic buildings," he said.
"Importantly, this development will include affordable homes, as well as creating much-needed jobs in the city."