Dudley council's £1m savings plan costing £1.3m so far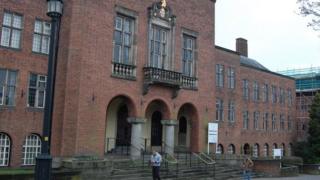 A move to halve the number of senior managers and save £1m from a local authority's budget, has so far cost £1.3m - and has not yet been completed.
Dudley Metropolitan Borough Council is replacing 22 top posts with 11 roles, paid at higher salaries.
BBC News Online can reveal payouts and pay rises have topped £1.3m, with five of the new roles still to be filled.
Labour council leader Peter Lowe said these "one-off costs" were the only way to streamline management.
Conservative councillor Patrick Harley said to pursue savings on management was right but these figures meant "it would be at least a year before a penny was saved".
UKIP councillor Paul Brothwood said: "This whole process has been a disaster from the start.
"The controlling group do not have the business acumen to carry out such a transformation."
Costs and payouts
Mr Lowe said: "These costs were a contractual entitlement out of the council's hands.
"It confirmed our move was to a new, streamlined system."
In October, the council's cabinet approved removing five director and 17 assistant director positions and replacing them with three strategic directors and eight chief officer posts.
After a Freedom of Information Act request, the council revealed redundancy payouts would cost £576,141.
The authority confirmed it would also have to pay £590,135 for the capital costs of pensions.
Further costs for pay rises, redeployment and settlement expenses come to £151,000.
Three assistant director posts remain at risk. It is not yet known if the individuals will be redeployed. Appointments are expected to be finished by mid-March.