Traders to take over Dudley market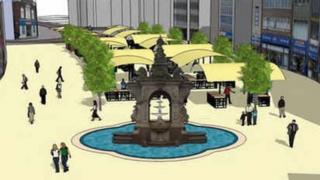 Market traders in Dudley are to take over the running of the town's market for a trial period.
Talks have been held between the council and some stall holders for them to take charge of the day-to-day administration of the market.
Traders will take direct control for 12 months and set it up as a not-for profit organisation, the council said.
It is hoped traders will take over the running on 1 August, which would be extended if successful.
Work has been taking place on the market place and the Cast Street area in the town for the last couple of years and it is hoped it will be completed by the summer.
New paving and new lighting has been installed at the 74-stall market.
It is hoped specialist markets will be introduced and opening hours could extend to include evenings and Sundays.
Len Lenihan, chairman of the Dudley Markets Traders' Association said traders had been working closely with the council.
"We are Dudley market and we want to help shape, grow and influence the market in the months and years ahead," he said.
Other work in the town includes improving the public toilets, moving the statue of footballer Duncan Edwards, restoring the fountain and the Earl of Dudley statue.
The council is due to discuss the matter later this month.
Transforming Dudley
In the last few years the council has spent/is spending
£7m to transform the town's historic market place and public areas
£3m invested in 19 of the town's most important historic/listed buildings
£40m package being negotiated/developed for the development of a light rail innovation centre in the town centre and the re-introduction of a live rail connection to Birmingham City Centre and HS2