Birmingham Smithfield city centre development plans unveiled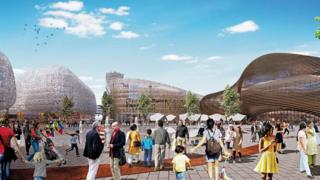 A £500m plan to regenerate part of the centre of Birmingham has been unveiled by developers.
To be called Birmingham Smithfield, the project involves moving the wholesale market to make way for a major shopping area, tram line and 1,000 homes.
Birmingham City Council leader Sir Albert Bore said it would "drastically improve what the city has to offer".
The ideas are being shown to investors at an international property show and will go to public consultation.
The wholesale market was already due to move in 2016. The retail market would remain in the Smithfield development.
Birmingham Smithfield
100,000 sq m (1,076,391 sq m) of retail floor space
1,000 new homes
Family leisure quarter
New public spaces, including a centrepiece market square
New Midland Metro tram line
New cycle and pedestrian routes
A planned Midland Metro tram line, to serve the new HS2 rail terminus and the east of the city, will run along the edge of Birmingham Smithfield development.
The new Curzon terminus station for the HS2 high speed rail line. linking the city to London and Manchester, which is expected to open in 2026, will be adjacent to the new development, the city council said.
A residential hub is planned between Pershore Street and Barford Street, with 1,000 new homes.
The city council said Birmingham Smithfield had "the potential to become an attractive place to live in the city".
The existing wholesale market will move to a 210,000 sq ft (19,510 sq m) site at The Hub industrial estate in Witton, using £40m of Enterprise Zone funding.
Some traders said they were relieved after "more than five years of uncertainty".
However Peter Marshall, of the Wholesale Fresh Produce Association, said there was still some uncertainty about how sales would be affected by moving out of the city centre.
History of the wholesale market
1817: Smithfield cattle market opens
1869: Wholesale fish market opens in Bell Street - demolished in 1958
1892: Cattle and pig market opens in Montague Street
1897: City meat market and abattoir opens in Bradford Street
1974: First part of a 21-acre wholesale market opens in Digbeth
2013: Digbeth site declared not "fit for purpose" by city council
2014: City council announces wholesale market will move to Witton
Marketing Birmingham said funding for the new development would come from £275m committed by Birmingham City Council for the City Centre Enterprise Zone.
Andy Street, chair of the Greater Birmingham and Solihull Local Enterprise Partnership, said the organisation was "absolutely behind realising huge opportunities such as Birmingham Smithfield".