Vet 'no idea' of timing over Crufts dog poisoning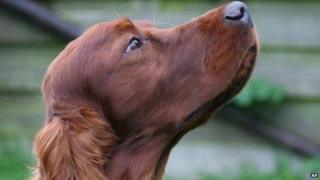 A vet investigating the alleged poisoning of a Crufts dog has said he has no idea whether it happened during the competition.
Irish setter Jagger died after the event, having allegedly eaten beef laced with poison.
The Belgian vet who treated him said he did not know whether the poisoning happened at Crufts, held in Birmingham.
Jagger's Leicester-based co-owners have claimed he must have been poisoned "while on his bench" at the show.
'No idea'
Jagger, known as Thendara Satisfaction, died on Saturday morning after returning to Belgium with fellow owner Aleksandra Lauwers.
The vet, Patrick Jans, told the BBC he had "no idea" when the dog was poisoned and would not be making any comment until the toxicology report was published next week.
He said: "At this stage I don't know what the poison was, when the dog was poisoned or whether it was poisoned at all."
He said he would comment after toxicological tests being carried out at Ghent University's Faculty of Veterinary Medicine were published next week.
He said: "Once we know the results I will talk to the owners first and then there will be a statement and then we will speak to the press."
Earlier, Mr Jans was quoted in The Sun newspaper as saying that the poisoning was unlikely to have happened during Crufts. However, speaking to the BBC, Mr Jans denied making these comments.
Jagger's fellow owner Dee Milligan-Bott has claimed the dog must have been given the meat "while on his bench at Crufts".
The Kennel Club, which organises Crufts, said it had received "no information" about allegations a second dog - a shih tzu - died following the event.
This article was amended on 11 March 2015 in light of comments given to the BBC by Mr Jans following an article in The Sun.