Birmingham's Grand Central shopping centre to be sold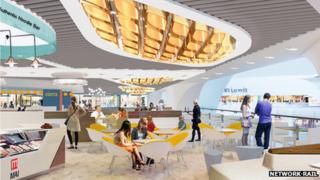 A major new shopping centre in Birmingham is being put up for sale six months before it opens to the public.
Grand Central - formerly the Pallasades - is due to open in September as part of the £600m New Street Station revamp.
Birmingham City Council, which is currently trying to settle a backdated £1.1bn bill for equal pay claims, said it always intended to sell Grand Central once it was completed.
The sale plans are expected to be approved at a meeting on Monday.
Council leader Sir Albert Bore said: "It was always our intention to sell Grand Central once completed, so the time has now come for us to set the ball rolling to find the right buyer for this premium shopping destination, which will be a great asset for whoever acquires it."
News of the proposed sale comes after the council disposed of Birmingham's NEC Group for £307m to LDC, the private equity arm of Lloyds Banking Group, in January.
The group includes the National Exhibition Centre (NEC), International Convention Centre (ICC), the Genting Arena and the Barclaycard Arena (BA).
Analysis by Phil Mackie
Although there isn't any mention of it in the official press release, Birmingham is under tremendous pressure to settle backdated equal pay claims of more than £1bn. For years, low-paid workers, usually women, earned much less than others, usually men, on the same grade.
Because the council also has to impose swingeing spending cuts, it has few options other than to raise money through the sale of capital assets.
The first and biggest of its so-called 'crown jewels' to be sold off was the NEC group.
Assuming landmark buildings like the library, council house, town hall, symphony hall and the city's parks will never be offered to buyers, then Grand Central (formerly the Pallasades) is probably the next most valuable site.
There are many who would argue that local authorities ought to concentrate on their core duties, the provision and delivery of services, and not become major commercial landowners. Others will regret that more major city attractions are being lost to private investors, most likely from overseas.
Birmingham City Council acquired the former Pallasades shopping centre in 2008 in order to facilitate the New Street Gateway project.
Grand Central will boast 40 stores and 20 restaurants including the largest John Lewis store outside London, and will create up to 1,000 jobs.
Sir Albert said: "This is an incredibly exciting year for Birmingham, with Grand Central just one of a number of redevelopment projects coming to fruition, which in turn will create more job opportunities and attract greater investment to our city."
The council has not revealed how much it hopes to sell the shopping centre for.