Can Birmingham Library stay successful?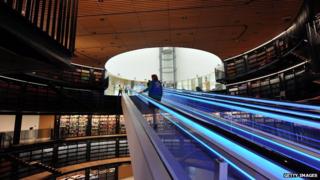 In an era when libraries across England are closing, due to lack of funding and declining attendances, one is standing head and shoulders above the rest. So what is the secret behind the success of the Library of Birmingham and can it thrive despite major staff cuts?
In these days of public service cutbacks and closures, a new library launch is certainly newsworthy.
But when the Library of Birmingham opened in September 2013, in a ceremony hosted by Nobel-prize winning Malala Yousafzai, the coverage was almost feverish.
Eighteen months later, interest in the building clearly has not dipped.
The library has just been named as one of the top 10 most popular visitor attraction in the UK, according to the Association of Leading Visitor Attractions (Alva).
Alva said it was the first time any English attraction outside London had made it into the list. In getting there, the library pipped to the post other prestigious contenders such as London's British Library, which drew 1,627,599 visits compared to the Library of Birmingham's 2,414,860.
Bernard Donoghue, chief executive of Alva, said Birmingham's library had exceeded all expectations.
So what is the secret of its success?
One of the primary reasons is its architecture.
The building cost nearly £190m to build and was designed by Dutch firm Mecanoo.
"The most important thing was to bring a kind of coherence because it felt as if the city had many fragments of buildings from different periods," said architect Francine Houben.
"The architecture is compelling," said Mr Donoghue. "That alone attracts a lot of tourists. When you go inside, it feels as if it's a temple to learning and education. It also gives you a platform to look out over the rest of Birmingham."
The building missed out on the Riba Stirling Prize for best new building of the year, which went to Liverpool's Everyman Theatre.
But it did win a BBC poll, in which 90,000 people voted, to find the public's favourite on the shortlist.
A library spokesman said winning the public's backing was "very gratifying".
Lydia Williams, 33, a charity worker from Birmingham
"I didn't like the building when it was being built.
"Birmingham is a big mish-mash of different architectural styles and I don't like how it looks.
"It's so different to everything around it and I think it will look really outdated in about 30 years.
"But the facilities are amazing. I work in a team and we come here for meetings and it's really good and the Shakespeare room is brilliant."
Another reason for the library's success is what it houses - books.
But the books here are not the battered copies of Catherine Cookson or C.S Forester you might find at your local lending service.
"The new building has put the value of libraries on the economic map," said Mr Donoghue. "You can tell when you walk in how learning and intellectual curiosity is valued."
It is the largest public lending library in Europe, with a series of rotundas housing its collection of more than 400,000 books.
Special features include its nationally-important photography collection and archives and its Shakespeare Memorial Room, on the ninth floor.
The architecture here is deliberately different - a restored, wood-panelled relic from Birmingham's 1882 Victorian library - and contains one of the largest Shakespeare collections in the world, including a First Folio.
Harprit Bilkhoo, 32, a GP from Birmingham
"We come here quite often and bring the kids. It's a really good public space, on a par with the best of other cities.
"You'd expect most top attractions to be in London, as there's more investment there.
"But the library makes a statement that in the next 20 years or so Birmingham will truly take its place as the second city."
It is not just the significance of its collections that make Birmingham's book bank "more than a library".
It has a host of additional facilities include a digital gallery, a subterranean amphitheatre, an outdoor garden - or discovery terrace - and a gallery, which is used for visiting exhibitions and showcasing collections.
Experts believe this mix of facilities is crucial to the library's wider appeal.
"The library is a bit of a phenomenon," said Richard Moss, editor of Culture 24, which promotes cultural venues across the UK.
"You can go and browse films and TV programmes from the British Film Institute national archive or visit exhibitions - it has elements of a museum, really.
"Of course, not all libraries can do what Birmingham has done, and a huge amount of money has gone into it.
"But I think it shows you what the 21st Century library can do - and maybe has to do in order to survive."
Beck Millard, 23, an education mentor from Dudley
"I come here with my students most days and it's great to read and learn in such a nice environment.
"London is a number one city, so you would expect most attractions to be from there but Birmingham has good things too.
"Birmingham is maybe misunderstood. People need to come here and see what we have."
If you were going to invest £190m in a huge new attraction, common sense suggests you would try to locate it in London.
England's capital city routinely pulls in millions more visitors than anywhere else in the UK, as demonstrated in its dominance of the Alva survey.
But recent surveys have suggested Birmingham's tourism stock is rising.
It is now the UK's fourth most-visited city, behind London, Edinburgh and Manchester and has been extolled in the likes of the New York Times and the Rough Guides.
"The library is part of the renaissance of Birmingham - it's a place people are extremely proud of," said Mr Moss.
"Birmingham is buzzing," said James Smart, destinations editor at Lonely Planet. "The city has outstanding museums and galleries, great restaurants, picturesque canals and reminders of its industrial past like the Jewellery Quarter.
So is the library's success set to continue? Like other publicly-funded services, the library is set to make massive job cuts little more than a year after it opened.
The Labour-led city council said 100 of the building's 188 staff would lose their jobs.
However, the council's Conservative opposition said they were "saddened" by the cuts which they feared would threaten the library's legacy.
"What sort of message does that send out to the wider world? What does it say about us as a city?" former council leader Lord Whitby, who helped spearhead the development said.
Val Birchall, the council's assistant director of culture and visitor economy, said: "Like so many other libraries and publicly-funded cultural organisations across the whole country, we are facing challenging times ahead."
"It's always the case that a new visitor attraction has a honeymoon period of about 18 months to two years," said Mr Donoghue.
"After that, the figures inevitably tail off. But I really hope the city council continues its imaginative and brave investment in the library as a place which celebrates Birmingham."