Birmingham baby truck death: 'Father was driving'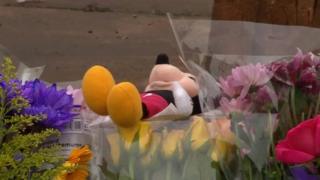 A recovery truck that hit a wall which collapsed on to a toddler and killed him was driven by the boy's father, police said.
Nineteen-month-old Amaan Yaseen suffered a fatal head injury on Queens Road, Stechford, Birmingham, on Monday.
The truck "accidentally struck" the front wall at the home address while it was being parked, family friend Mohammad Hafeez said.
He said the parents were "distraught and shocked".
Mr Hafeez said Amaan was "a lovely little boy who brought with him a lot of joy and happiness for the entire family, particularly his parents".
Addressing the media near the scene, Mr Hafeez said the boy would be "deeply missed" following "this accidental and tragic incident" at about 16:55 GMT on Monday.
The barrister said: "You will appreciate that this is a very tragic and traumatic incident for any parent to have to experience.
"[The father] is obviously and understandably distraught and upset and he is being supported quite properly by his immediate family and friends."
Mourners have paid their respects at the semi-detached home, where broken masonry still lies by the driveway.
Rosa Knight, who left a candle at the scene, said: "I did it for that baby and the family... when I was told, I shed a tear."
Roy Ives, who was walking back from a friend's house, said: "Out of the corner of my eye on the right I saw this block of bricks fall down... It was horrendous. It really upset me."
A 17-year-old girl, who lives next door, said she heard screaming and "just assumed it was kids".
She said: "We heard a lot of screaming... I can't believe that just happened right outside our door."
Inspector Paul Bennett, of West Midlands Police's collision investigation unit, said: "This was a tragic incident and officers continue to support the family and establish what exactly happened."