West Midlands Police 'self-service policing plan' for cuts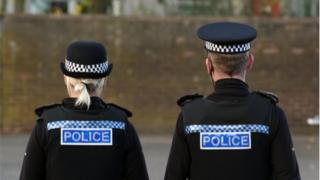 England's second biggest police force plans to lose more than 2,500 jobs by cutting neighbourhood officers and introducing "self-service" policing.
West Midlands Police outlined the measures as part of its efforts to save £130m in the next four years.
Chief Constable Chris Sims said the changes would help it become a "smaller, faster, smarter service".
But unions said Mr Sims had "lost touch" if he thought "virtual policing" could replace bobbies on the beat.
'Frankly terrifying'
The force said it was facing "unprecedented financial challenges". It said it needs to save £130m over the next four years, on top of £125m already cut.
It has already said 27 of its 41 front desks are to close.
In the "Blueprint" document, it set out how it believes it will operate by 2020.
The force said 83% of its costs are spent on staffing. It has already shed 2,000 staff over the past four years.
What is "self-service policing"?
The police say they plan to update their website to allow victims and witnesses to report and track crimes online
The service will be "a bit like how you track your parcel on Amazon", according to the police and crime commissioner's office. You will type in your crime number and be able to see what stage your case is at
Police say they will have to review what kind of crimes can be reported - more serious cases may not be included
Officers said they were confident the public would not inundate them with crime reports via the new system
People will still be able to report crimes the usual way, via telephone or in person
It plans to change the current neighbourhood policing model, which involves 10 local policing units, into "mission-led teams" which will operate across geographical boundaries. The force said it will focus resources, "on areas of most need".
Mr Sims said: "We are currently at a point where budgets for policing... are retracting at a level never seen before.
"We need to respond to and reflect those changes - becoming a smaller, faster, smarter service.
"Although this blueprint has been accelerated by the austerity cuts, it is something we would have done in any event."
Police and Crime Commissioner David Jamieson said: "We are doing all we can to ensure we can deliver what the public needs."
Unite regional officer Caren Evans said Mr Sims had, "lost touch with the public he serves, if he thinks virtual policing can replace bobbies on the beat, who work tirelessly with the communities they serve".
"The public will have no faith in the 'self-service' digital policing model being foisted on them because of budget cuts," she added.
"It beggars belief that the government's heavy-handed cuts are forcing police forces into such drastic and frankly terrifying measures."
She called for "urgent action" to stop police budget cuts.