Father and son pilot plane Airbus plane together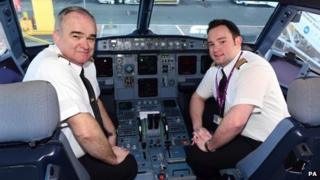 A father and son airline pilot team have flown their first flight together.
John and Luke Sharples flew from Birmingham Airport to Turin on Saturday.
Mr Sharples Senior, 56, has worked for Monarch Airlines for 29 years and has recently retrained on the Airbus fleet.
His son, 25, said that his father had been his "inspiration" to fly, and while he had taken his father for a few flights before but it was the first time they had flown a jet together.
Mr Sharples said he had recently retrained on the new Airbus fleet and was still new to the aircraft.
"Luke will be the more experienced pilot on the Airbus. I will be expecting some constructive criticism," he said.