'Wrong way' car hits two vehicles on A38 Aston Expressway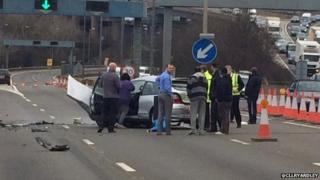 Three people were injured when a man drove the wrong way along a main road in Birmingham hit two other vehicles.
A 43-year-old man was driving along the A38M Aston Expressway at about 12:30 GMT when the collision happened.
He suffered life-threatening injuries. The drivers of the other two cars were treated for minor injuries, West Midlands Police said.
The expressway was shut for three hours leading to long delays in to and out of the city centre.
PC Damian Gibson said: "We can confirm that one car was travelling the wrong way along the expressway and we are still trying to ascertain why that was.
"We are now appealing to anyone who was in the area and saw the collision to come forward.
"A man was taken to hospital with life-threatening injuries and, at this stage, we are still trying to contact his family to make them aware."
Any witnesses are asked to contact West Midlands Police.
The Expressway takes drivers in and out of central Birmingham.