'Wrong way' A38(M) Aston Expressway driver dies after crash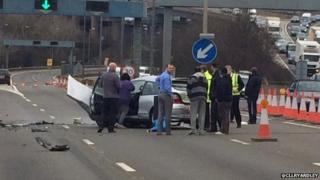 A man who crashed with two cars after driving the wrong way along a major road in Birmingham has died.
The driver, in a silver Rover MG, was seen travelling the wrong way on the A38(M) Aston Expressway before the collision at about 12:30 GMT on Monday.
The 43-year-old from Birmingham was taken to hospital where he later died from his injuries, police said.
Two other drivers were treated for minor injuries. The road was closed for three hours resulting in long delays.
Appealing for witnesses, PC Damian Gibson said: "We can confirm that one car travelled up the Expressway the wrong way against the flow of outbound traffic and we are still trying to ascertain why this was."