'No action' over Lilly Taylor's window fall in Tipton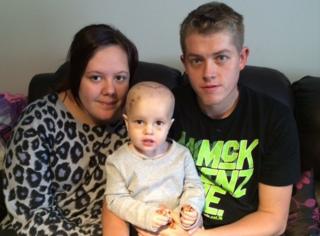 Two parents who claimed their one-year-old daughter fell from a window after a council worker left it open have been told no further action will be taken.
Lilly Taylor suffered a cracked skull and a brain bleed when she fell from the first-floor bedroom in Tipton, West Midlands, in October.
Her parents Stephanie Moreton and Craig Taylor had said the worker must have forgotten to shut the window.
But Sandwell Council and police said the fall was an accident.
Director of neighbourhoods Adrian Scarrott said: "Both the police and Sandwell Council carried out investigations at the time of the incident and both investigations resulted in the decision that no further action was needed.
In a statement, West Midlands Police said it had spoken to Lilly's parents and the council workman who repaired the window.
"The conclusion was that the child's fall was an accident," it said.
"No-one was formally arrested."
Lilly was in intensive care at Birmingham Children's Hospital for two days and needed almost 60 stitches.
Speaking at the time, 21-year-old Ms Moreton said she had put her daughter down to sleep in the room and said she was sure she had not opened the window.