Pregnant woman's crowded London Midland train plea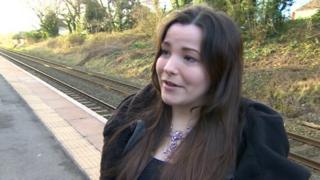 A heavily pregnant woman has criticised a train company after being regularly forced to stand due to overcrowding.
Kerren O'Malley, from Bilbrook in Staffordshire, who is 28 weeks pregnant, took video footage on her phone to show how busy the train is.
Miss O'Malley, who commutes daily from Bilbrook to Birmingham New Street, said she could rarely find a seat at peak times.
London Midland said it needed extra funding to afford more carriages.
'Unpleasant experience'
Miss O'Malley, who works as a brand executive, said priority seating was available on the trains but getting near it, "even to ask somebody for their seat is very difficult".
"It is very overcrowded. Often you are struggling to get through the doors," she said.
She said the service usually operated with four carriages but was occasionally reduced to two.
"A lack of carriages is causing a very unpleasant experience for all commuters but especially if you are pregnant," she said.
"One time I had to sit on the floor as it was too hot."
She called on London Midland to offer pregnant women "Baby on board" badges to prompt people to give up their seats.
"It's not always obvious to other people you are pregnant," she said.
"A badge would make people feel more comfortable about offering you a seat."
Other passengers also complained about the lack of seats.
"It's not very nice but there's nothing you can do," said one.
London Midland said: "We put every train we have got available out during the peak times."
It said it would require more government funding to put on extra carriages.
"We are really sorry for people like Kerren who are finding it difficult to get seats," the firm added.
It said it hoped to meet with Miss O'Malley "to discuss her ideas".