Birmingham Snow Hill station entrance 'should be open longer'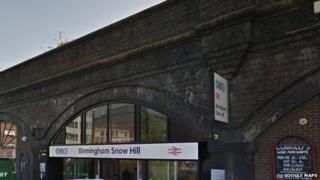 A Birmingham railway station entrance should be open for longer, according to the West Midlands transport authority.
Snow Hill railway station's second entrance in Livery Street closes at 19:00 between Monday and Saturday and is shut on Sundays.
Transport authority Centro said it would be asking London Midland to extend the opening hours of the entrance later this year.
But London Midland said it had not seen a "significant change" in station use.
The main entrance in Colmore Row is open seven days a week until the last trains stop running just before midnight.
Work on the Livery Street option was completed in 2011.
A Centro spokesman said: "The current opening times were drawn up with London Midland, which runs the station, when the Livery Street entrance opened. They reflected the level of demand at the time."
But Centro said since it opened, there had been developments such as the Snow Hill office blocks and the new Midland Metro stop at Snow Hill station will open later this year.
But London Midland said developments in the Livery Street area "haven't happened as quickly as everyone had hoped" and there was "lots of undeveloped land in that area between Snow Hill and the Jewellery Quarter".
However, the firm insisted it was "more than happy" to discuss the issue with Centro.