'Blind Dave' Heeley completes Marathon des Sables challenge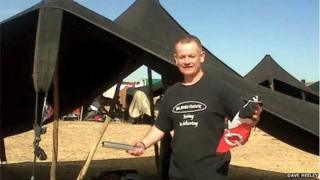 A blind marathon runner has completed his latest challenge by finishing the "world's toughest race" across the Sahara Desert.
Dave Heeley, known as "Blind Dave", from West Bromwich, ran a 160-mile route as part of the six-day Marathon des Sables.
Keen athlete Mr Heeley, who set off on Sunday, said he hoped his efforts would raise about £30,000 for charity.
In 2008 he ran seven marathons in seven days on seven continents.
He was fundraising on behalf of The Albion Foundation, the charitable arm of West Bromwich Albion football club.
Competitors in the Marathon des Sables camp in the desert and endure temperatures in excess of 50C (122F) while running.
Explorer Sir Ranulph Fiennes became the oldest Briton to finish the notorious endurance race when he completed this year's course.