'Most wanted' drug smuggler Robert Knight jailed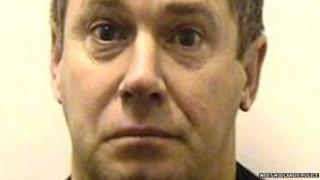 One of the UK's most-wanted men has been jailed for 11 years for drug smuggling.
Robert Knight, from Walsall, was captured during a poker game in Benidorm last September.
The 54-year-old was named by the National Crime Agency (NCA) in 2013 as one of Britain's most wanted in Spain.
West Midlands Police said his "sophisticated drug importation and distribution network" justified the 11 year sentence.
Knight had been on the run in Spain for six years and was sentenced at Birmingham Crown Court on Thursday.
Around 6kg of cocaine was seized by police at Heathrow Airport in 2008. Five men were arrested and later jailed, but officers continued to hunt for Knight until 2014.
He was detained in a bar in Calpe, eastern Spain, under a European Arrest Warrant.
Police said they worked with Crimestoppers, NCA and Spanish counterparts to bring Knight to justice.