Library of Birmingham now closed on Sundays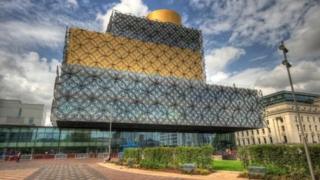 The £189m Library of Birmingham, that has been open for less than two years, is now closed on Sundays.
In February, the city council announced opening hours would be halved, and at the beginning of April it confirmed it would be open for just six hours on weekends.
The council needs to save nearly £113m from its 2015/16 budget.
Budget cuts and a £1.1bn equal pay claim from female workers left the council with financial problems.
Council leader Sir Albert Bore said the legal bill in particular had left the Labour-run council in a "horrendous position".
Loans were mostly used to fund its construction, with a small amount raised through donations and council land sales.
Library of Birmingham opening hours:
Monday/Tuesday 11:00 - 19:00
Wednesday - Saturday 11:00 - 17:00
Sunday closed
The Wolfson Centre for Archival Research will be open Tuesday to Saturday 11:00 - 16:00. This will be reviewed at the end of May.
The Library of Birmingham was recently named the only attraction outside London on a list of the UK's 10 most-visited tourist sites last year.
It has more than 200 public access computers, theatres, an exhibition gallery and music rooms.
The library drew more than 2.4 million visitors, beating London's British Library, which saw about 1.6 million.