Dudley Hippodrome rescue bid breaks down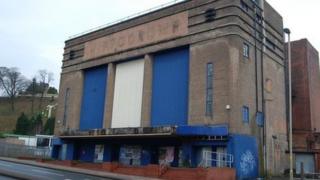 An £8m bid to save a 1930s theatre site has collapsed due to "frustrating negotiations", a local business has said.
Midlands-based ROK Group were in talks with Dudley Council to run Dudley Hippodrome, after a 35,000 people signed a petition to save it.
The council said requirements, such as car park use and removal of asbestos, "were not deliverable".
ROK said it believed the hippodrome had "fantastic potential".
The Friends of Dudley Hippodrome organised the petition against the council's plan to demolish the building.
Treasurer of the group, Gordon Dowling, said Dudley Council "wanted" the Hippodrome demolished all along.
He blamed the outcome on the council delaying negotiations with the ROK Group, which were due to conclude in March.
ROK Group said in a statement: "Despite submitting our proposal over a year ago, issues still remain."
The authority said negotiations with the entertainment firm "included demands that were outside of the council's legal powers and carried a level of financial risk".
It would "look at any viable proposal with an open mind", said the authority.
Built in 1938, the site was a theatre until 1964 when it became a bingo hall. But it has stood empty since that closed in 2009.